USA Grand Prix 2016
25 Oct 2016
Race 18 – 56 Laps – 5.513km per lap – 308.405km race distance – medium tyre wear
USA GP F1 Strategy Report Podcast – our host Michael Lamonato is joined by Trent Price – F1 journalist.
The Circuit of the Americas once again hosted a fun-filled United States Grand Prix, with Lewis Hamilton going on to claim his fourth victory at the track and fifth in the country.
The British driver has now cut his team-mate Nico Rosberg's lead in the championship down to 26 points with three rounds remaining. Rosberg finished in second place, with Daniel Ricciardo third for Red Bull.
In a stark contrast to last year, conditions remained dry throughout the weekend. Strategy proved to be crucial in deciding the race result, so let's take a look at the main headlines from the US GP:
Ferrari takes a different route
We've seen it many times before during the 2016 season, but Ferrari seems to like making strange and unusual strategy decisions during races. The team's drivers looked to be on alternative strategies, but only one car made it to the chequered flag.
Kimi Raikkonen started the race strongly on the super-soft tyre, getting the jump on Max Verstappen and running up in fourth place. He pitted on lap eight to ditch the softest tyre compound, opting for the yellow-marked softs for his second stint.
He fell behind Verstappen and then gradually started to drop off the back of the Red Bulls, into the clutches of his team-mate Sebastian Vettel. Unusually on lap 24 Ferrari pitted him for another set of super-softs, which released Vettel. Were they trying to get Raikkonen out of the way?
After a decent 14-lap stint they pitted him again but there were concerns a wheel nut wasn't on properly and he stopped just after the pit exit, before bizarrely rolling down the hill, into the pitlane and retiring.
Meanwhile Vettel did a super-soft stint to begin with, before a soft-tyre stint and a fairly short (in comparison to other drivers) section of the race on the mediums. Weirdly, Ferrari pitted him for super-softs with three laps to go.
Maybe it was a precaution or he was really struggling with tyres but he didn't have anyone around him to challenge his fourth place, with Raikkonen and Verstappen failing to finish. So he ended up a distant fourth.
Ricciardo loses time
Red Bull looked like a decent match for Mercedes, or at least Rosberg. Ricciardo held onto second place early on before his stop to go from super-softs to softs on lap eight, quite early and an aggressive move. He pitted for a second time on lap 25.
But the Virtual Safety Car emerged a few laps later, ironically to clear his team-mate's stranded car. Mercedes pitted both drivers to go to the end but as Red Bull had just stopped Ricciardo, they decided not to. It proved costly, as Mercedes basically got two free pitstops – one for each driver.
That cemented Rosberg in second place and Hamilton in the lead. It's possible Ricciardo could've challenged if Red Bull had pitted him under VSC as no time would've been lost and he would've been on equal tyres with the same amount of laps on them.
As it is, he went all the way to the end on the mediums he changed to on lap 25 – an impressive stint, but one that saw him lose some ground late on to finish a slightly lonely third.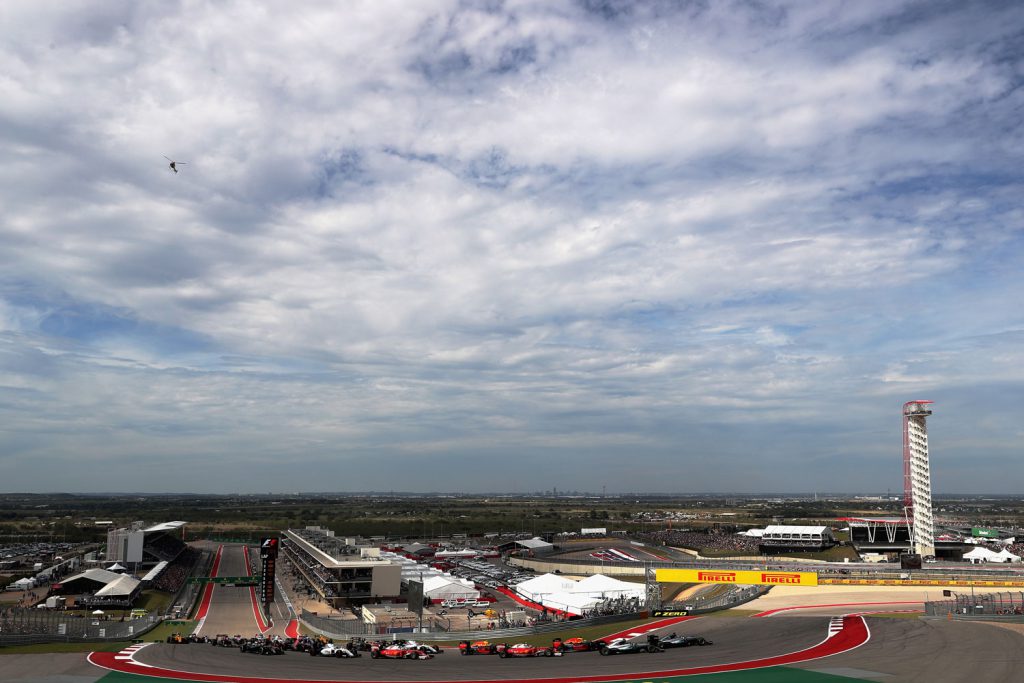 Mix of stops
The VSC and various other reasons, including the first lap contact and a few incidents and punctures, meant we saw a range of two and three-stop strategies during the race. The three compounds (super-soft, soft and mediums) worked well and proved to open up just the right amount of strategy, without making it chaotic.
The top three all pitted just twice, with Red Bull going on a long final stint with Ricciardo and the two Mercedes drivers starting on the softs and going to laps 10 and 11 respectively for Rosberg and Hamilton.
The team put Rosberg on the medium and Hamilton on the soft tyre, but the VSC opened up a chance to stop both and neutralise any shot of seeing how the two different strategies would've played out.
All three compounds got a heavy amount of use, the super-soft was probably the most unpopular tyre because the soft and mediums worked so well in the relatively warm conditions – they were able to hold up for a long period of time, while generating good performance.
A few drivers did go for a one-stop though, with Daniil Kvyat, Marcus Ericsson and Felipe Nasr all doing so. It didn't quite pay off but it was worth the risk, especially for the so far point-less Sauber.
Qualifying plays its part
The rule of the drivers starting on the tyre they set their fastest time on in Q2 shook up the grid once again, with a few drivers at the front of the field (Hamilton, Rosberg and Verstappen) making it through to Q3 on the softs.
The rest started on the super-softs, which gave them a small performance advantage at the start, while a range of other strategies were used – some lower down the field chose the softs to start and a few even went for mediums.
Tyre performance gaps seemed fairly small in Austin though and that meant going for a different compound at the start didn't cost drivers a huge amount of time, although those on the mediums did struggle initially. Super-softs helped Ricciardo and Raikkonen make up a place each but the early stops cost them a little time.
Jack Leslie @JackLeslieF1
Longest Stints
Medium: Ericsson (38 laps)
Soft: Nasr, Sainz (26 laps)
Supersoft: Vettel, Raikkonen (14 laps)
All the Data
Thanks to Pirelli Motorsport for the detailed infographics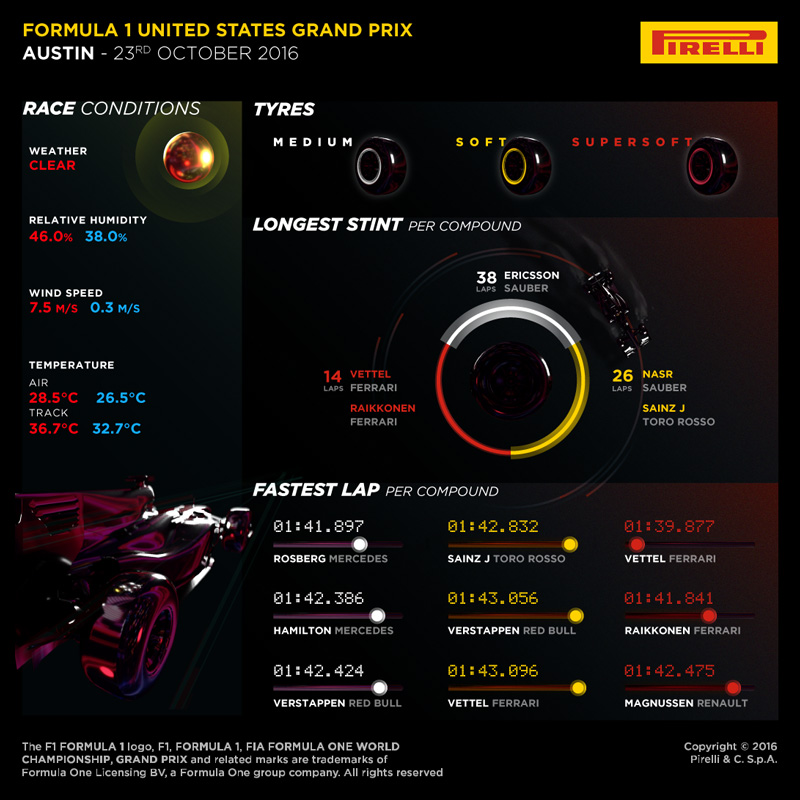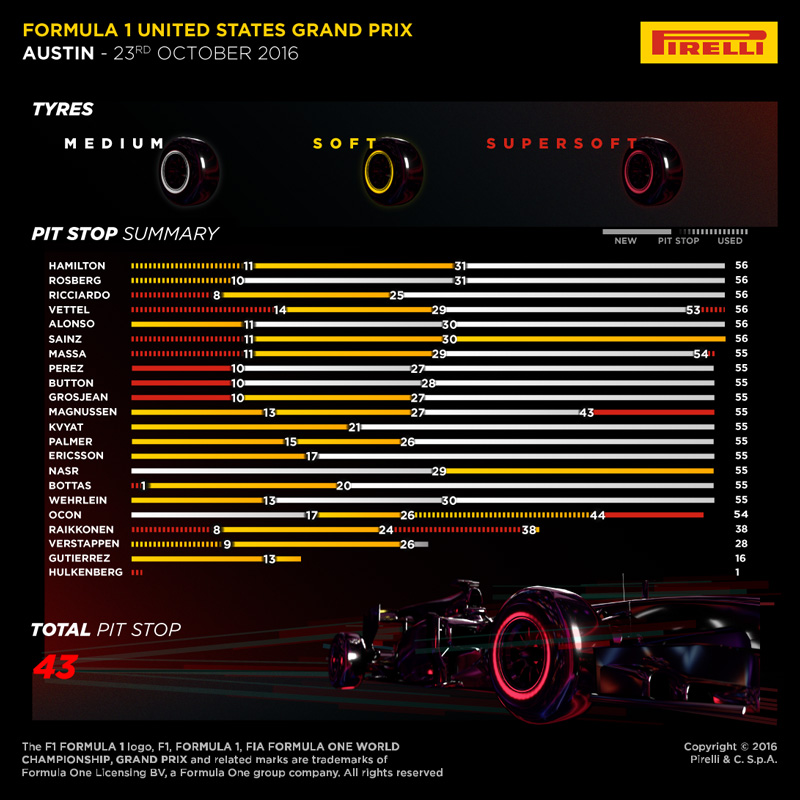 Stints by Driver
Safety Car

Lap 31 (virtual)

3. Ricciardo

Start P3
Used Supersoft
8 laps
Pit 23.956
Soft
17 laps
Pit 23.534
Medium
31 laps
–
Finished P3 (+0)

5. Vettel

Start P6
Used Supersoft
14 laps
Pit 24.433
Soft
15 laps
Pit 23.812
Medium
24 laps
Pit 24.156
Used Supersoft
3 laps
–
Finished P4 (+2)

6. Rosberg

Start P2
Used Soft
10 laps
Pit 23.526
Medium
21 laps
Pit 24.149
Medium
25 laps
–
Finished P2 (+0)

7. Raikkonen

Start P5
Used Supersoft
8 laps
Pit 23.989
Soft
16 laps
Pit 23.845
Used Supersoft
14 laps
Pit 25.384
Soft
0 laps
–
Retired L38 (DNF)

8. Grosjean

Start P17
Supersoft
10 laps
Pit 24.523
Soft
17 laps
Pit 26.056
Medium
28 laps
–
Finished P10 (+7)

9. Ericsson

Start P16
Soft
17 laps
Pit 25.229
Medium
38 laps
–
Finished P14 (+2)

11. Perez

Start P11
Supersoft
10 laps
Pit 23.35
Medium
17 laps
Pit 24.467
Medium
28 laps
–
Finished P8 (+3)

12. Nasr

Start P21
Medium
29 laps
Pit 24.244
Soft
26 laps
–
Finished P15 (+6)

14. Alonso

Start P12
Soft
11 laps
Pit 23.683
Medium
19 laps
Pit 25.3
Medium
26 laps
–
Finished P5 (+7)

19. Massa

Start P9
Used Supersoft
11 laps
Pit 24.093
Soft
18 laps
Pit 23.903
Medium
25 laps
Pit 23.464
Used Supersoft
1 laps
–
Finished P7 (+2)

20. Magnussen

Start P18
Soft
13 laps
Pit 24.31
Soft
14 laps
Pit 24.103
Medium
16 laps
Pit 23.898
Supersoft
12 laps
–
Finished P12 (+6)

21. Guttierrez

Start P14
Soft
13 laps
Pit 24.47
Soft
3 laps
–
Retired L16 (DNF)

22. Button

Start P19
Supersoft
10 laps
Pit 23.613
Medium
18 laps
Pit 25.635
Medium
27 laps
–
Finished P9 (+10)

26. Kvyat

Start P13
Soft
21 laps
Pit 37.837
Medium
34 laps
–
Finished P11 (+2)

27. Hulkenberg

Start P7
Used Supersoft
1 laps
–
Retired L1 (DNF)

30. Palmer

Start P15
Soft
15 laps
Pit 24.071
Soft
11 laps
Pit 24.766
Medium
29 laps
–
Finished P13 (+2)

33. Verstappen

Start P4
9 laps
Pit 23.489
17 laps
Pit 36.112
2 laps
–
Retired L28 (DNF)

44. Hamilton

Start P1
Used Soft
11 laps
Pit 23.601
Soft
20 laps
Pit 23.575
Medium
25 laps
–
Finished P1 (+0)

55. Sainz

Start P10
Used Supersoft
11 laps
Pit 24.778
Soft
19 laps
Pit 24.281
Soft
26 laps
–
Finished P6 (+4)

77. Bottas

Start P8
User Supersoft
1 laps
Pit 27.098
Soft
19 laps
Pit 25.222
Medium
35 laps
–
Finished P16 (-8)

31. Ocon

Start P22
Medium
17 laps
Pit 25.216
Soft
9 laps
Pit 27.532
Used Soft
18 laps
Pit 24.665
Supersoft
10 laps
–
Finished P18 (+4)

94. Wehrlein

Start P20
Soft
13 laps
Pit 26.059
Medium
17 laps
Pit 25.182
Medium
25 laps
–
Finished P17 (+3)