Australian Grand Prix 2017
29 Mar 2017
Race 1 – 57 Laps – 5.303km per lap – 302.271km race distance – low tyre wear
Australian GP F1 Strategy Report Podcast – our host Michael Lamonato is joined by Rob James from Box of Neutrals.
Formula 1 is officially back, and it looks like we've got a real fight on our hands between Mercedes and Ferrari. Lewis Hamilton may have taken pole position for the Australian Grand Prix, but couldn't hold onto the lead in the race.
A brave strategy call helped Sebastian Vettel leap-frog Hamilton to give Ferrari its first victory since Singapore 2015. F1's new era didn't start in particularly dramatic style, but it certainly threw up an interesting result and plenty of exciting moments.
Despite Pirelli's new, wider tyres being more durable, strategy still played a crucial role in the race. Here are the major strategy headlines to emerge from the Albert Park Circuit in Melbourne:
Mercs burning up?
Obviously it's early days, but the Mercedes W08 does seem to burn up the tyres a bit more than rivals – especially in traffic. Hamilton and Valtteri Bottas both reported a lot of sliding and some overheating on the ultra-soft tyre in the opening stint, especially towards the end. They fared better on the softs but by that time it was tough to recover the lost ground.
Kvyat goes long
We knew from winter testing that the ultra-soft tyre could rack up a lot of laps, but we didn't expect someone to do a 34-lap stint on them in the race. Daniil Kvyat's Toro Rosso looked after the ultras beautifully for almost two-thirds of the race, but his strategy and a potential seventh place were derailed when he had to make an unscheduled second stop.
This was due to the team having to top his car up with air. Actually, they had to do that at the first stop too, which cost him time, before bringing him in again with eight laps to go. It shows just how quick the STR12 is that he still managed to finish 9th.
Durable tyres
As promised from Pirelli, the tyres were much harder and more durable in 2017. It may have caused most to go for a one-stop, but we still saw some good racing. Kvyat's 34 lap-stint was the longest on the ultra-softs, Kevin Magnussen did 43 on super-softs and Stoffel Vandoorne managed 46 on the softs. Those are quite a bit bigger than the longest stints we saw last year, particularly with the softer compounds.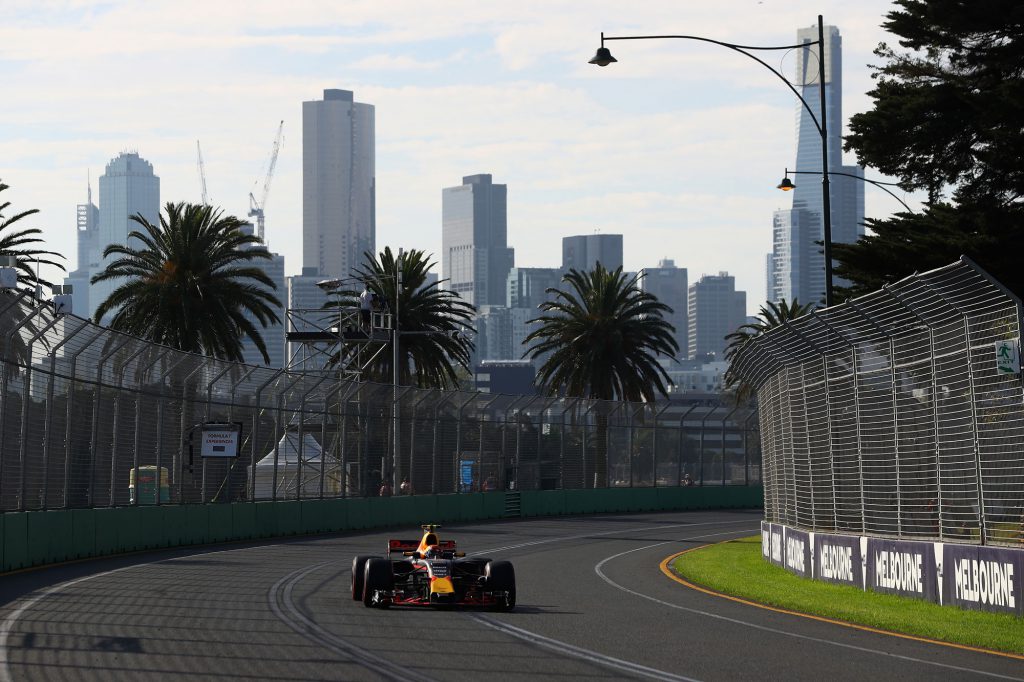 Overcut works (for some)
Will we be talking more about the overcut, compared to the undercut, in 2017? That could well be the case. The highest profile case of the overcut working as Vettel, who pitted six laps after Hamilton on ultra-softs. His pace was still pretty strong before he pitted and despite having to negotiate some traffic, the advantage gained was still good enough for him to emerge in the lead.
Traffic plays a part
But, he didn't have as much traffic to pass as Hamilton and the Mercedes couldn't follow other cars through corners quite as well as the Ferrari. Traffic actually had a big impact on the lead battle. Hamilton got caught behind lapped and slower cars, including Max Verstappen – the Red Bull racer stayed out for a few laps longer than Vettel.
Hamilton quickly got caught behind slower cars, including Max Verstappen, who stayed out a few laps longer than Vettel. This caused the Mercedes racer to lose crucial seconds in the pit stop phase and helped Vettel establish an initial lead.
Overcut doesn't work (for others)
But while the overcut did work well for Vettel, it didn't for Kimi Raikkonen. He stayed out one lap longer than Bottas and Verstappen – the cars in front and behind him. But this was later in the stint, perhaps when the tyres were starting to lose performance and didn't quite have the edge to make it work. He didn't lose any places, but he didn't gain much time either.
Hoping for a safety car?
It was truly heartbreaking to see Daniel Ricciardo climb out of his stuck-in-gear car on the formation lap, in front of his home crowd. Red Bull worked fast to repair his car for a pit lane start and did an amazing job repairing it, but by the time the RB13 was ready and emerged on track, Ricciardo was two laps down.
It seems Red Bull were just using it as a test session and possible were waiting for a safety car to help him make up some of the ground, but – surprisingly, for Albert Park – we didn't see one and Ricciardo retired with an engine failure anyway.
Two stop not the way to go
Most drivers finished the race with only one trip through the pits but a few tried a two-stop strategy, including Nico Hulkenberg. However, he got stuck behind Fernando Alonso early on and then there was a weirdly short middle stint on the softs, which clearly didn't work well. So, he moved onto scrubbed ultra-softs for the run to the flag but he couldn't make inroads and finished 11th.
Jack Leslie @JackLeslieF1
Longest Stints
Ultrasoft: Kvyat (34 laps!)
Supersoft: Magnussen (43 laps)
Soft: Vandoorne (46 laps)
All the Data
Thanks to Pirelli Motorsport for the detailed infographics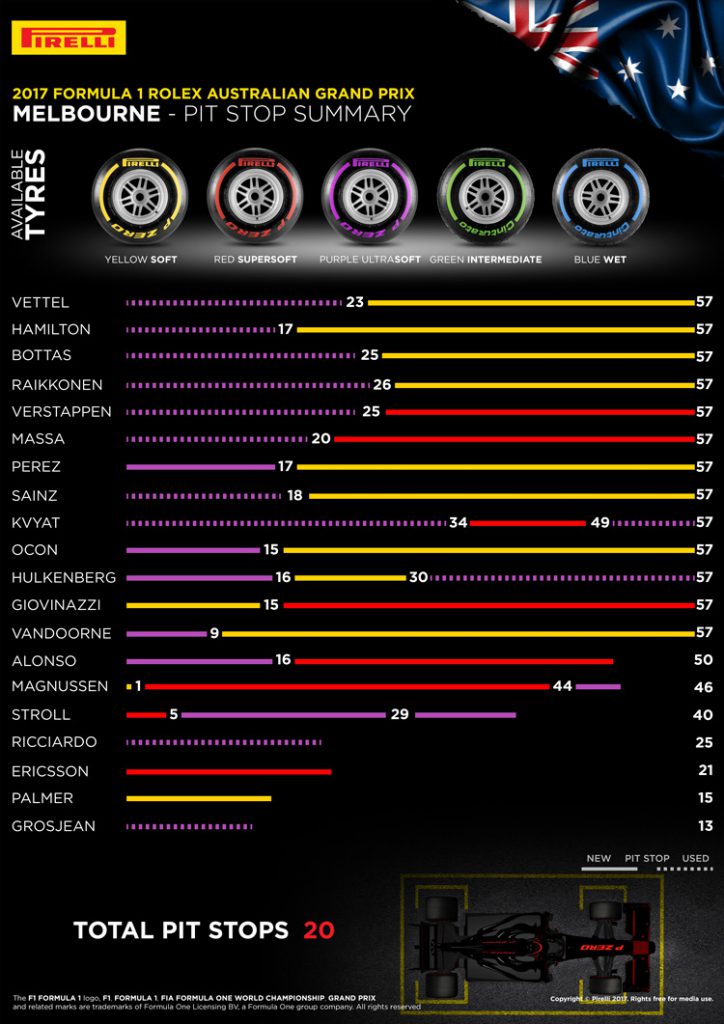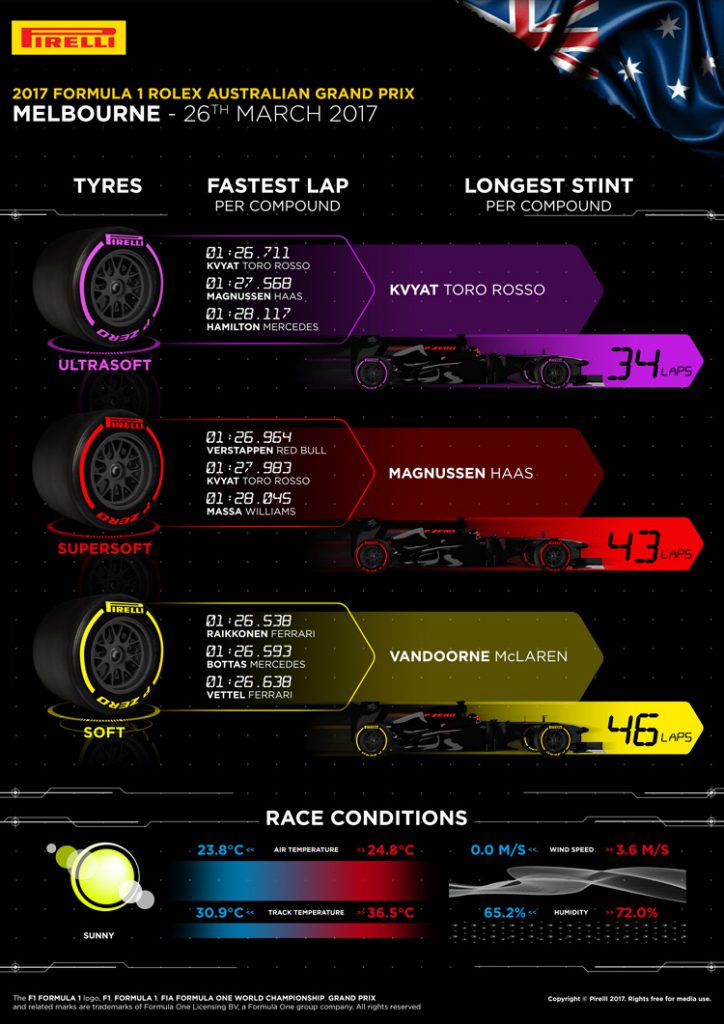 Stints by Driver
Safety Car

n/a

2. Vandoorne

Start P18
Ultrasoft
9 laps
Pit 39.562
Soft
46 laps
–
Finished P13 (+5)

3. Ricciardo

Start P15
Used Ultrasoft
25 laps
–
Retired L25 (DNF)

5. Vettel

Start P2
Used Ultrasoft
23 laps
Pit 21.988
Soft
34 laps
–
Finished P1 (+1)

7. Raikkonen

Start P4
Used Ultrasoft
26 laps
Pit 22.033
Soft
31 laps
–
Finished P4 (+0)

8. Grosjean

Start P6
Used Ultrasoft
13 laps
–
Retired L13 (DNF)

9. Ericsson

Start P14
Supersoft
21 laps
–
Retired L21 (DNF)

11. Perez

Start P10
Ultrasoft
17 laps
Pit 22.045
Soft
39 laps
–
Finished P7 (+3)

14. Alonso

Start P12
Ultrasoft
16 laps
Pit 22.484
Supersoft
34 laps
–
Retired L50 (DNF)

18. Stroll

Start P20
Supersoft
5 laps
Pit 22.293
Ultrasoft
24 laps
Pit 22.38
Ultrasoft
11 laps
–
Retired L40 (DNF)

19. Massa

Start P7
Used Ultrasoft
20 laps
Pit 21.568
Supersoft
37 laps
–
Finished P6 (+1)

20. Magnussen

Start P17
Soft
1 laps
Pit 31.336
Supersoft
43 laps
Pit 22.189
Ultrasoft
2 laps
–
Retired L50 (DNF)

26. Kvyat

Start P9
Used Ultrasoft
34 laps
Pit 25.559
Supersoft
15 laps
Pit 24.026
Used Ultrasoft
7 laps
–
Finished P9 (+0)

27. Hulkenberg

Start P11
Ultrasoft
16 laps
Pit 23.13
Soft
14 laps
Pit 23.159
Used Ultrasoft
26 laps
–
Finished P11 (+0)

30. Palmer

Start P19
Soft
15 laps
–
Retired L15 (DNF)

33. Verstappen

Start P5
Used Ultrasoft
25 laps
Pit 22.208
Supersoft
32 laps
–
Finished P5 (+0)

36. Giovinazzi

Start P16
Soft
15 laps
Pit 28.591
Supersoft
40 laps
–
Finished P12 (+4)

44. Hamilton

Start P5
Used Ultrasoft
25 laps
Pit 22.208
Supersoft
32 laps
–
Finished P5 (+0)

55. Sainz

Start P8
Used Ultrasoft
18 laps
Pit 21.762
Soft
38 laps
–
Finished P8 (+0)

77. Bottas

Start P3
Used Ultrasoft
25 laps
Pit 21.44
Soft
32 laps
–
Finished P3 (+0)

31. Ocon

Start P13
Ultrasoft
15 laps
Pit 22.154
Soft
41 laps
–
Finished P10 (+3)