Monaco Grand Prix 2017
30 May 2017
 Race 6 – 78 Laps – 3.337km per lap – 260.286km race distance – very low tyre wear
Monaco GP F1 Strategy Report Podcast – our host Michael Lamonato is joined by Matt Clayton, Australian Motorsport Editor, RedBull.com.
The 2017 Monaco Grand Prix was far from a thriller, but with the new breed of Formula 1 cars, was that really much of a surprise?
Kimi Raikkonen lined up on pole position but it was Sebastien Vettel who claimed victory, extending his championship lead over Lewis Hamilton to 25 points.
Hamilton's recovery to seventh place came after a disappointing qualifying session, where traffic and yellow flags saw him eliminated in Q2.
Despite high temperatures, the low-grip track surface and durable nature of the Pirelli tyres limited strategy. Nevertheless, there was still some scope to do something different and plenty of strategic headlines to delve into:
How Raikkonen lost the race
He was starting from the best place on the grid after a stunning qualifying lap, but Raikkonen wasn't quite so happy (let's be honest, when's he ever that smiley?) after the Monaco GP. Qualifying is even more crucial around the streets of Monte Carlo and with a strong start, the battle for the win came down to the pitstops.
Some have suggested Ferrari directly favoured Vettel by giving him a stronger strategy, in order to maximise track position. Of course, this was denied, but the Raikkonen pitstop call doesn't make a whole lot of sense really – maybe it's just another one of Ferrari's occasional strategy errors.
Raikkonen pitted just after Max Verstappen and Valtteri Bottas, who were both doing solid but not spectacular sector times on super-softs. Ferrari must've known traffic could play its part too, but still stopped Raikkonen. It wasn't a super-quick pitstop, so maybe they just missed the window they wanted, but it still cost him time and (most importantly) track position.
His pace was comparable – but not quite so as consistent – as Vettel's, but when he realised he was behind him, he backed off. Definitely a missed opportunity and no wonder he was even more downbeat than usual afterwards.
And how Vettel won it
Keeping in touch with Raikkonen through the first stint put Vettel in a strong position, with the 'overcut' working much better than many expected. The ultra-soft had very little degradation and around a seven tenth advantage, so it was surely going to be the best tyre to be on. Vettel stayed out five laps longer than Raikkonen and pitted on lap 39.
He picked up his pace with some impressive in-laps, which were traffic-free (as Raikkonen was caught up behind some slower cars), and a good stop meant he emerged clear of his team-mate in first place.
Ricciardo's long first stint
Daniel Ricciardo put in a very similar strategy to Vettel, utilising the 'overcut' and pitting several laps later than his closest rivals Max Verstappen and Valtteri Bottas. The ultra-softs kept a good pace for some time, enabling Ricciardo to do some fast laps and pit on lap 38. He emerged ahead, much to Verstappen's frustration…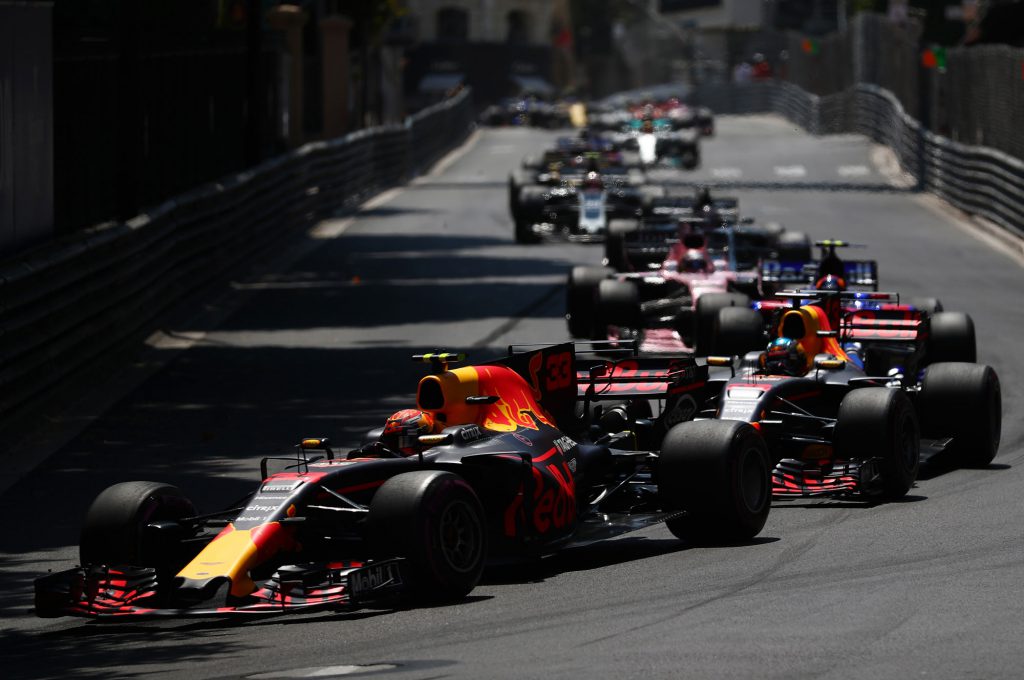 Mad Max vs Flying Finn
What made things even worse for Verstappen was than he not only lost a place to Ricciardo, but he also dropped behind Bottas too. This was after Mercedes aced the in-lap and pitstop for Bottas, who pitted one lap earlier and did a nice out-lap as well. The 'undercut' worked well for Bottas and this cost Verstappen. Had he done something similar to Ricciardo, it might have been a very different result. In the end, though, he stopped for a second time at the safety car.
Hamilton stays out
As mentioned earlier, surely a smart move was to stay out as long as possible on the incredible durable but quick ultra-soft tyre. That's what Hamilton did and it worked very well, he used the Mercedes W08's strong pace (not shown in Q2) and the ultra-soft to move up the order as others pitted.
Then, when he decided to stop on lap 46, from sixth place, he only lost one position. The strategy played out very well in getting Hamilton up the order, helped by a few incidents and drivers getting caught in battles, which cost them time in the process. Maximum damage limitation for the three-time champion with a 'super-overcut', you could call it.
Vandoorne does the same
Stoffel Vandoorne looked on course for a point in 10th place after doing the same as Hamilton and staying out for a long opening ultra-soft stint, pitting on lap 43. It looked to have worked as he gained a few spots but crashing out just after the restart put pay to his race.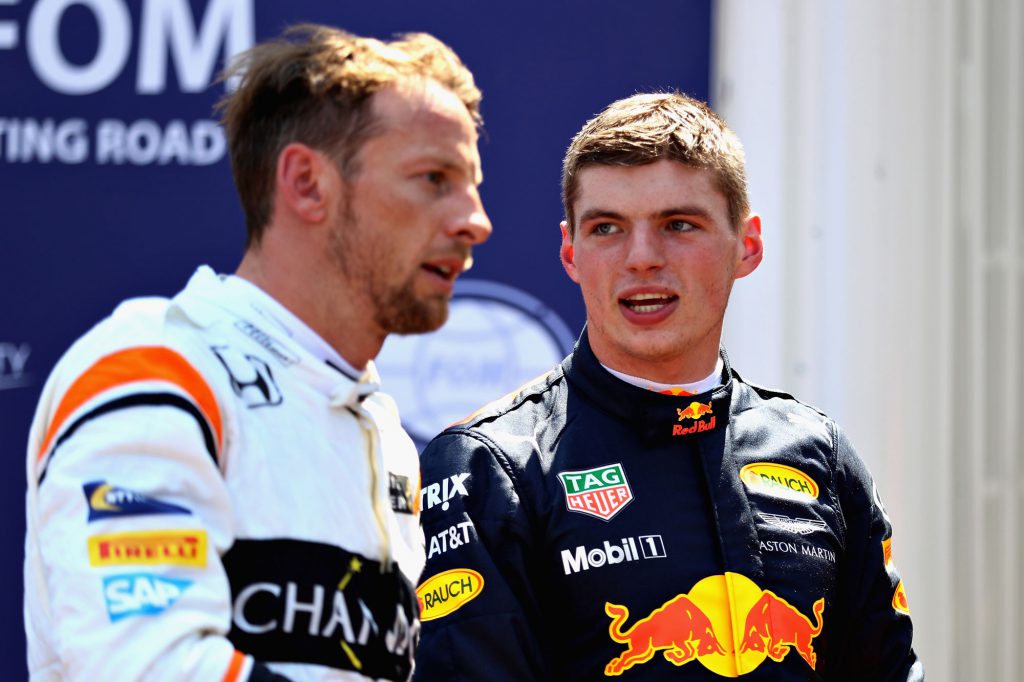 Unscheduled stops
A number of drivers should really have scored better results had it not been for unscheduled trips to the pits. Sergio Perez ditched his ultra-softs fairly early for super-softs (in part due to a front wing change) and this dropped him down to P16, which put him in slower traffic. A point may have been possible without a "PlayStation" move on Daniil Kvyat which required another stop for repairs.
His team-mate Esteban Ocon's impressive run of top 10 results came to an end due to a puncture, which denied him a possible point as he had to stop for a second time – which was no-one's plan, really. Kevin Magnussen also picked up a puncture, which prevented him from beating his team-mate Romain Grosjean.
Barely any deg
Monaco's low-grip track surface really is unique, presenting a completely different set of conditions. Pirelli took the three softest compounds to Monaco but even the ultra-soft had barely any degradation or wear, the tyre manufacturer admitting it could probably last the entire race.
Pascal Wehrlein did the most ultra-soft laps with 56 before he was pitched into the barrier, his Sauber on its side, by Jenson Button at Portier. Perez did the most super-soft laps with 47, while the soft wasn't used in the race and barely made an appearance all weekend. This meant a one-stop was always going to be the only strategy call.
Jack Leslie @JackLeslieF1
Longest Stints
Ultrasoft: Wehrlein (56 laps)
Supersoft: Perez (47 laps)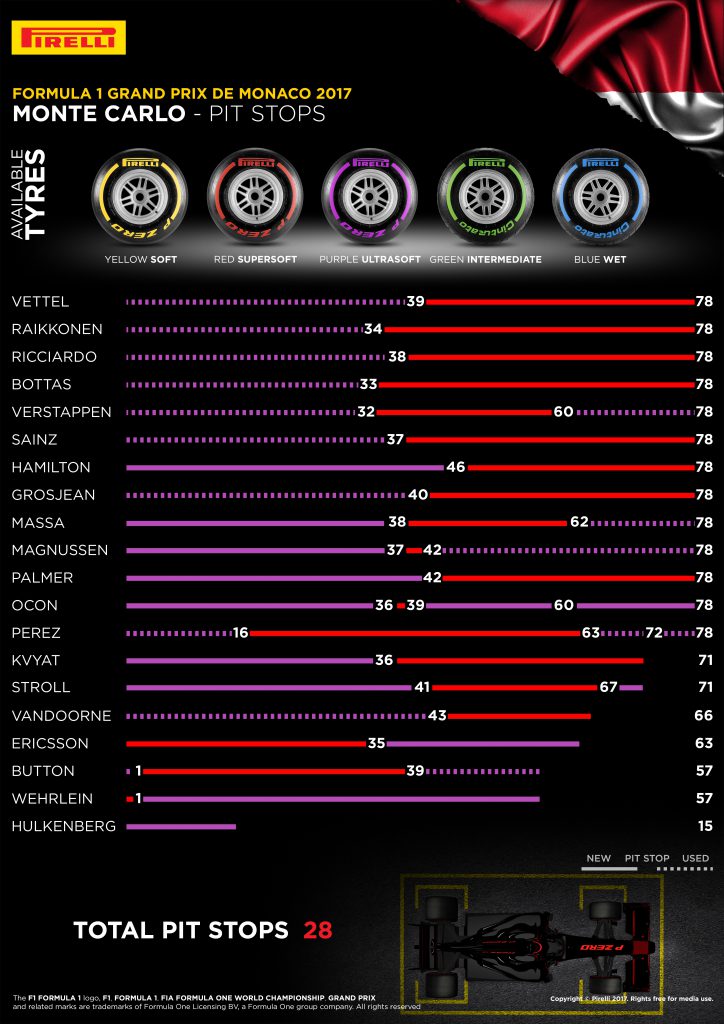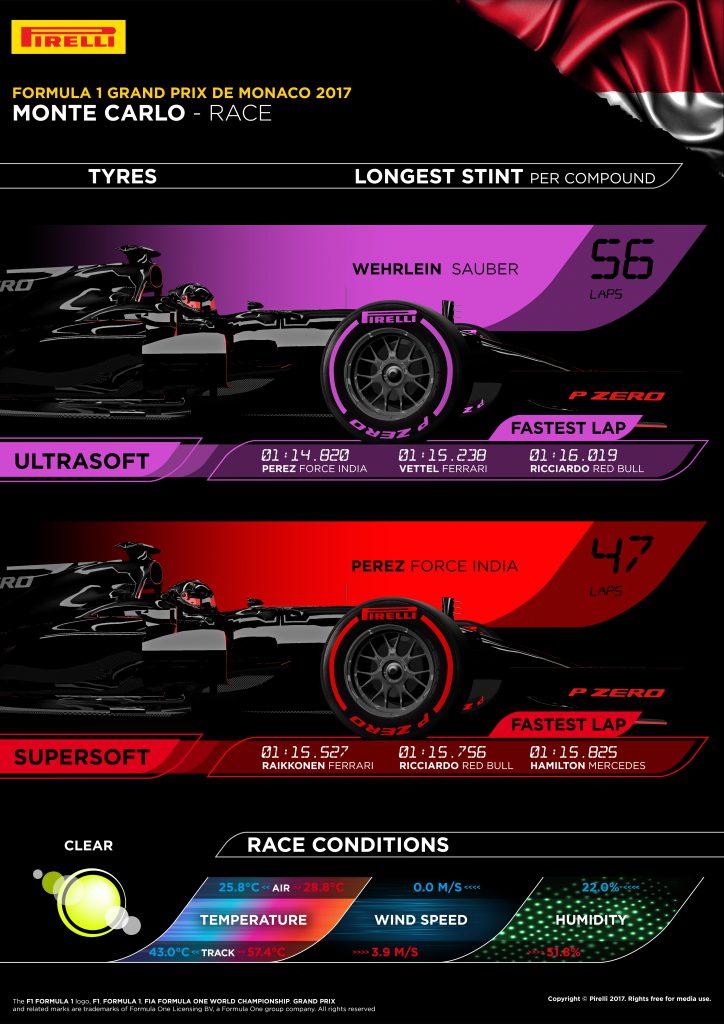 Stints by Driver
Safety Car

Lap 60-66

2. Vandoorne

Start P12
Used Ultrasoft
43 laps
Pit 24.768
Supersoft
23 laps
–
Retired L66 (DNF)

3. Ricciardo

Start P5
Used Ultrasoft
38 laps
Pit 24.183
Supersoft
40 laps
–
Finished P3 (+2)

5. Vettel

Start P2
Used Ultrasoft
39 laps
Pit 24.306
Supersoft
39 laps
–
Finished P1 (+1)

7. Raikkonen

Start P1
Used Ultrasoft
34 laps
Pit 24.833
Supersoft
44 laps
–
Finished P2 (-1)

8. Grosjean

Start P8
Used Ultrasoft
40 laps
Pit 24.66
Supersoft
38 laps
–
Finished P8 (+0)

9. Ericsson

Start P19
Supersoft
35 laps
Pit 24.949
Ultrasoft
28 laps
–
Retired L63 (DNF)

11. Perez

Start P7
Used Ultrasoft
16 laps
Pit 31.313
Supersoft
47 laps
Pit 25.026
Used Ultrasoft
9 laps
Pit 35.485
Used Ultrasoft
6 laps
–
Finished P13 (-6)

22. Button

Start P20
Ultrasoft
1 laps
Pit 24.465
Supersoft
38 laps
Pit 26.057
Used Ultrasoft
18 laps
–
Retired L57 (DNF)

18. Stroll

Start P17
Ultrasoft
41 laps
Pit 26.69
Supersoft
26 laps
Pit 25.248
Ultrasoft
4 laps
–
Finished P15 (+2)

19. Massa

Start P14
Ultrasoft
38 laps
Pit 24.353
Supersoft
24 laps
Pit 25.123
Used Ultrasoft
16 laps
–
Finished P9 (+5)

20. Magnussen

Start P11
Ultrasoft
37 laps
Pit 24.979
Supersoft
5 laps
Pit 26.04
Used Ultrasoft
36 laps
–
Finished P10 (+1)

26. Kvyat

Start P9
Ultrasoft
36 laps
Pit 24.406
Supersoft
35 laps
–
Finished P14 (-5)

27. Hulkenberg

Start P10
Ultrasoft
15 laps
–
Retired L15 (DNF)

30. Palmer

Start P16
Ultrasoft
42 laps
Pit 25.472
Supersoft
36 laps
–
Finished P11 (+5)

33. Verstappen

Start P4
Used Ultrasoft
32 laps
Pit 25.343
Supersoft
28 laps
Pit 25.678
Used Ultrasoft
18 laps
–
Finished P5 (-1)

94. Wehrlein

Start P18
Supersoft
1 laps
Pit 25.813
Ultrasoft
56 laps
–
Retired L57 (DNF)

44. Hamilton

Start P13
Used Ultrasoft
46 laps
Pit 24.155
Supersoft
32 laps
–
Finished P7 (+6)

55. Sainz

Start P6
Used Ultrasoft
37 laps
Pit 24.427
Supersoft
41 laps
–
Finished P6 (+0)

77. Bottas

Start P3
Used Ultrasoft
33 laps
Pit 24.308
Supersoft
45 laps
–
Finished P4 (-1)

31. Ocon

Start P15
Ultrasoft
36 laps
Pit 24.299
Supersoft
3 laps
Pit 24.496
Ultrasoft
21 laps
Pit 24.642
Ultrasoft
18 laps
–
Finished P12 (+3)