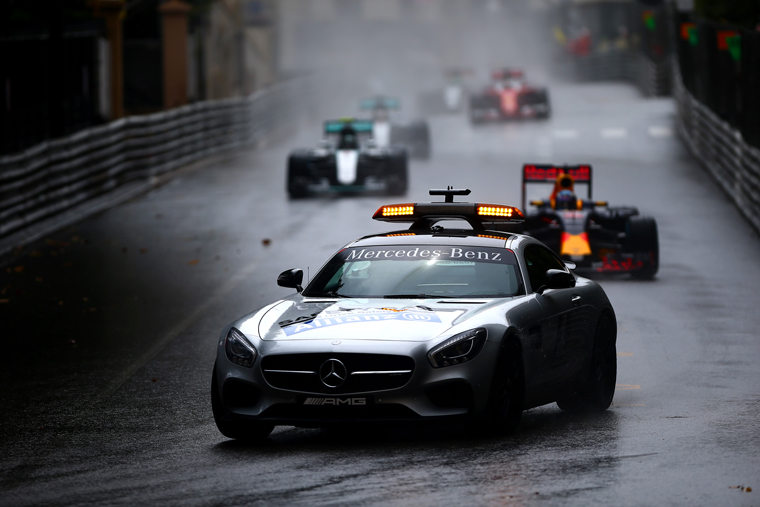 6ª Etapa – 78 Voltas – 3.337km por volta – 260.286km distância total – desgaste muito baixo de pneus
Monaco GP F1 Strategy Report Podcast – featuring Rob James from the Box of Neutrals podcast.
Mônaco é sem sombra de dúvidas o evento mais prestigiado e glamouroso evento no calendário da F1 e sua desafiadora pista de rua proporcionou mais uma corrida sensacional com diversas nuâncias, incidentes e Lewis Hamilton cruzou a linha de chegada em primeiro após as 78 voltas.
A estratégia foi mais uma vez uma parte essencial da corrida e as condições climáticas produziram um espetáculo, começando com uma pista extremamente molhada e gradualmente chegando aos traçados secos.
Red Bull arisca
Muitos já esperavam um domingo chuvoso no horário da corrida, mesmo assim, a RBR ainda optou por tentar passar pelo Q2 com pneus super macios calçando o carro de Daniel Ricciardo, com o objetivo de também tê-los na largada do GP.
A equipe saiu tarde para a pista, evitando que alguém copiasse sua estratégia, e o australiano teve vida fácil para se classificar com os pneus vermelhos. O clima monegasco acabou jogando um balde de água fria nos planos da Red Bull, mas o que poderia ter acontecido se a corrida tivesse sido no seco?
Obviamente é complicado imaginar o que poderia ter acontecido. A estratégia de duas paradas era considerada como a opção mais rápida, entretanto, problemas com o tráfego poderiam tornar a opção de apenas uma parada mais viável.
Os pneus vermelhos apresentaram boa performance e durabilidade durante a sexta-feira, portanto, largar da pole e partir para um stint mais longo poderia ter ajudado Ricciardo a evitar o trânsito e ainda ter uma grande vantagem quando os ultra macios começassem a acabar.
Com toda a dificuldade de ultrapassar nas ruas do principado, ficar mais tempo na pista poderia representar uma grande vantagem. Contudo, se perdesse posições e voltasse com os pneus mais rápidos, seria extremamente complicado escalar o pelotão, que estaria com os compostos mais lentos.
Vettel tenta dar o pulo do gato
Kevin Magnussen foi o primeiro a apostar na mudança para os Intermediários logo no começo da prova, justo quando seu companheiro de equipe abandonou a prova. Sebastian Vettel foi o primeiro dos ponteiros a tentar imitá-lo. Os tempos foram bem parelhos nas primeiras voltas mas os pneus verdes rapidamente acharam mais aderência e velocidade.
Entretanto, os pilotos que pararam mais cedo acabaram ficando presos atrás de pilotos mais lentos, prejudicando gravemente suas corridas. Vettel ficou preso atrás de Felipe Massa e Jenson Button encontrou dificuldades para superar Pascal Werhlein. Com isso, Rosberg e Ricciardo se beneficiaram com as paradas tardias, evitando uma perda de tempo extra.
Mercedes estica o Stint de Hamilton
A decisão da equipe alemã foi muito corajosa. A transferência de pneus de chuva para slicks sempre é muito complicada e quando feita muito cedo, especialmente em Mônaco, pode custar caro. Após Marcus Ericsson e alguns outros pilotos arriscarem a mudança, as condições de pista se mostraram perfeitas para a Mercedes completar a manobra.
A equipe arriscou em deixar Hamilton na pista com pneus azuis por tanto tempo, entretanto, o desgaste dos pneus e das ranhuras auxiliaram-no a manter um ritmo de corrida razoável. Ricciardo logo alcançou o W07, a Mercedes arriscou a mudança para os slicks e Hamilton conseguiu um pequeno undercut em Ricciardo, vantagem essa que foi jogada pela janela graças a um erro do inglês na volta subsequente.
Para a sorte do tricampeão, a RBR não estava preparada para o pit-stop do australiano, resultando na manutenção da liderança de Hamilton. Não fosse o erro crasso da equipe austríaca, Ricciardo teria recuperado a liderança. Mônaco proporcionou um leque enorme de estratégias e isso não foi diferente no pelotão dianteiro.
Hamilton colocou os ultra macios, que tinham mais performance mas não duravam tanto e demoravam para aquecer, especialmente com o traçado esfriado por conta da chuva. Já Ricciardo calçou super macios, com a garantia de que chegaria ao final do GP sem sustos. Contudo, o australiano ficou preso atrás da Mercedes e judiou de seus pneus em tentativas frustradas de recuperar a liderança, enquanto Hamilton apenas preservava seus ultra macios.
Baixo desgaste de pneus
Como sempre vemos em Mônaco, o desgaste de pneus foi extremamente baixo, cenário perfeito para a tentativa de apenas uma parada caso a pista tivesse continuado seca. Hamilton ainda completou a corrida nessa estratégia devido a aposta da Mercedes de mantê-lo na pista. O desgaste nos pneus azuis e roxos foi inacreditável, com o inglês completando 31 e 37 voltas respectivamente em cada composto.
Em todo pelotão, a maioria dos pilotos conseguiu esticar bem seus stints tanto com pneus de chuva, quanto com slicks. Os macios provaram ser fortes logo após a transição, no entanto, Ultra e super macios recuperaram a vantagem assim que a temperatura subiu e a aderência aumentou.
Hamilton arrastou seus ultra macios até o fim da prova, mas Daniel Ricciardo sofreu ainda mais com os pneus vermelhos devido aos ataques em busca da liderança da prova. O pit-stop longo custo caro, muito provavelmente custou até uma vitória, especialmente considerando a superioridade da RBR em ritmo de corrida no começo da prova.
Composto mais duro também é usado
Ao contrário das corridas anteriores, o composto mais duro do fim de semana foi usado com uma certa frequência e ainda conseguiu competir em pé de igualdade com ultra e super macios, ajudado pela temperatura e pelas condições da pista. Sergio Perez buscou uma estratégia alternativa e conseguiu levar sua Force India a um surpreende pódio, com Vettel e Hulkenberg apostando na mesma estratégia e terminando o GP com muita competitividade.
Texto Original: Jack Leslie @JackLeslieF1 – BR version by Fernando Campos.
Stints mais longos
Macios: Perez – 48 Voltas
Super Macios: Button – 47 Voltas
Ultra Macios: Rosberg / Hamilton – 47 Voltas
Intermediários: Nasr – 24 Voltas
Chuva: Hamilton / Wehrlein – 31 Voltas
Mais paradas
Magnussen, Haryanto, Nasr, Bottas, Ericsson – 3
All the Data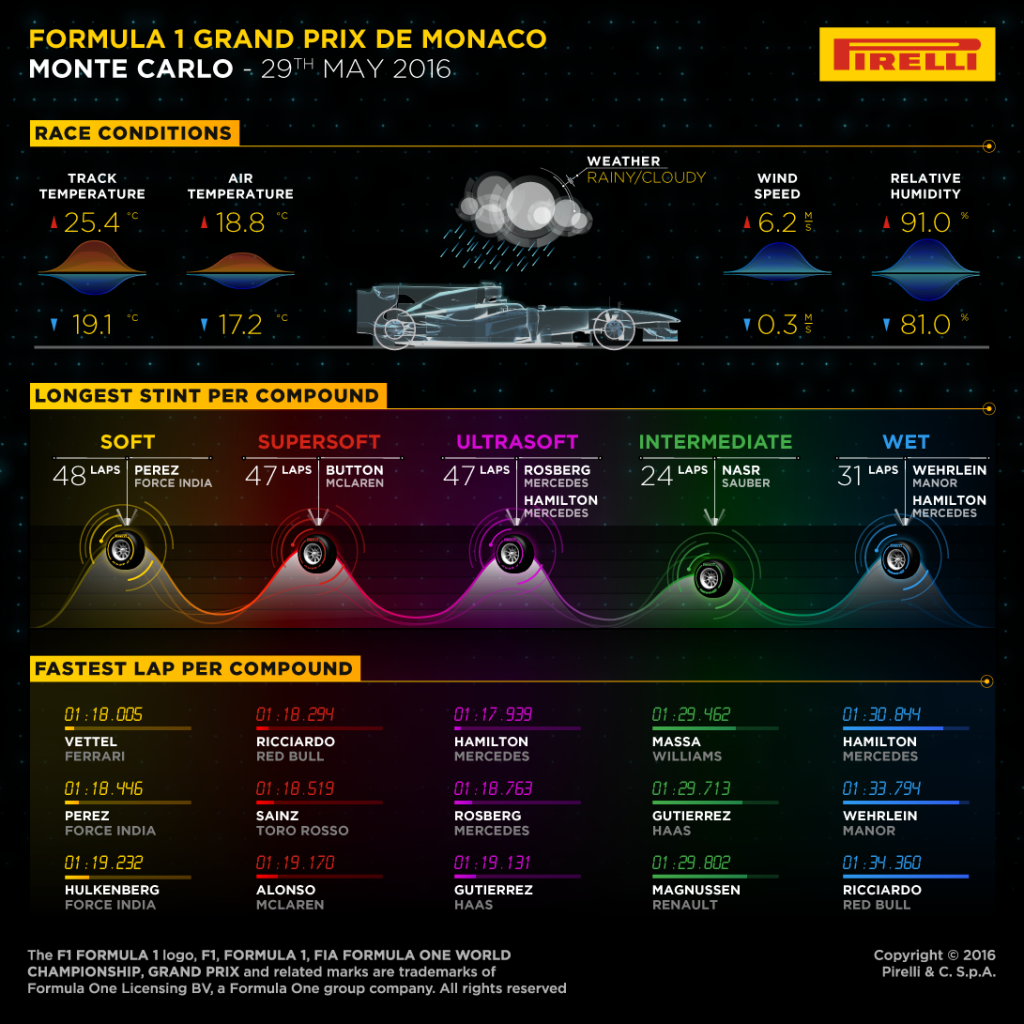 Stints by Driver
Safety Car

Lap 1-9
Lap 35-36
Lap 49

3. Ricciardo

Start P1
Wet
23 laps
Pit 25.054
Intermediate
9 laps
Pit 35.327
Used Supersoft
 46 laps
–
Finished P2 (-1)

5. Vettel

Start P4
Wet
13 laps
Pit 25.114
Intermediate
18 laps
Pit 25.561
Soft
47 laps
–
Finished P4 (+0)

6. Rosberg

Start P2
Wet
20 laps
Pit 26.698
Intermediate
11 laps
Pit 27.680
Used Ultrasoft
47 laps
–
Finished P7 (-5)

7. Raikkonen

Start P11
Wet
10 laps
–
Retired Lap 10 (DNF)

8. Grosjean

Start P15
Wet
15 laps
Pit 33.490
Intermediate
15 laps
Pit 25.111
Ultrasoft
46 laps
–
Finished P13 (+2)

9. Ericsson

Start P19
Wet
11 laps
Pit 27.176
Intermediate
15 laps
Pit 26.435
Ultrasoft
20 laps
Pit 33.342
Used Ultrasoft
2 laps
–
Retired Lap 51 (DNF)

11. Perez

Start P7
Wet
21 laps
Pit 25.714
Intermediate
9 laps
Pit 25.608
Soft
48 laps
–
Finished P3 (+4)

12. Nasr

Start Pitlane
Wet
8 laps
Pit 28.242
Intermediate
24 laps
Pit 26.836
Ultrasoft
16 laps
–
Retired Lap 48 (DNF)

14. Alonso

Start P9
Wet
14 laps
Pit 25.512
Intermediate
18 laps
Pit 26.836
Supersoft
46 laps
–
Finished P5 (+4)

19. Massa

Start P14
Wet
20 laps
Pit 24.934
Intermediate
12 laps
Pit 25.182
Supersoft
45 laps
–
Finished P10 (+4)

20. Magnussen

Start P16
Wet
7 laps
Pit 25.583
Intermediate
14 laps
Pit 38.811
Intermediate
8 laps
Pit 25.879
Supersoft
3 laps
Pit 31.241
Retired L32 (DNF)

21. Guttierrez

Start P12
Wet
16 laps
Pit 26.044
Intermediate
16 laps
Pit 27.407
Ultrasoft
45 laps
–
Finished P11 (+1)

22. Button

Start P8
Wet
8 laps
Pit 25.766
Intermediate
22 laps
Pit 25.450
Supersoft
47 laps
–
Finished P9 (-1)

26. Kvyat

Start P8
Wet
7 laps
Pit 27.698
Intermediate
11 laps
–
Retired Lap 18 (DNF)

27. Hulkenberg

Start P5
Wet
15 laps
Pit 25.215
Intermediate
16 laps
Pit 27.064
Soft
47 laps
–
Finished P6 (+1)

30. Palmer

Start P18
Wet
7 laps
–
Retired Lap 7 (DNF)

33. Verstappen

Start Pitlane
Wet
12 laps
Pit 25.604
Intermediate
19 laps
Pit 25.459
Soft
3 laps
–
Retired Lap 34 (DNF)

44. Hamilton

Start P3
Wet
31 laps
Pit 26.315
Ultrasoft
47 laps
–
Finished P1 (+2)

55. Sainz

Start P8
Wet
21 laps
Pit 27.738
Intermediate
10 laps
Pit 28.112
Supersoft
46 laps
–
Finished P8 (+0)

77. Bottas

Start P10
Wet
15 laps
Pit 27.364
Intermediate
25 laps
Pit 25.478
Supersoft
19 laps
Pit 24.673
Ultrasoft
28 laps
–
Finished P12 (-2)

88. Haryanto

Start P19
Wet
11 laps
Pit 29.117
Intermediate
23 laps
Pit 27.380
Ultrasoft
13 laps
Pit 26.292
Used Ultrasoft
27 laps
–
Finished P15 (+4)

94. Wehrlein

Start P20
Wet
31 laps
Pit 26.517
Ultrasoft
45 laps
–
Finished P14 (+6)